Performance Season Overview
U of M Department of Theatre Arts & Dance Announces 2015-2016 Season
UDT: Dance Revolutions, Threepenny Opera, Earthquakes in London, Henry VI plus free Creative Collaborations, Informal Dance Showings and BFA Studio Series
The University of Minnesota's Theatre Arts & Dance Department is pleased to announce its 2015-16 performance season. As University classes begin, so does producing at the Rarig Center and Barbara Baker Center for Dance. Auditions, rehearsals, design plans, shop activities and creative work leading to the following public productions of the fall, winter, and spring are underway.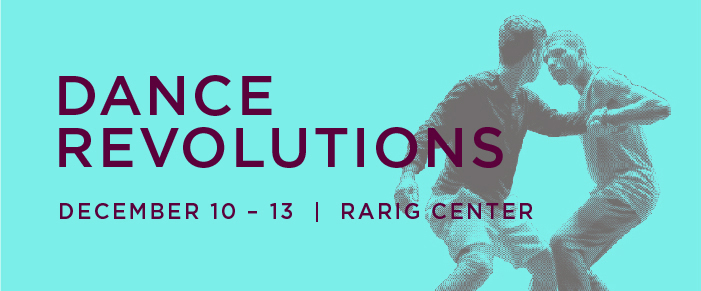 Dance Revolutions presents a dazzling collection of innovative pieces. This exciting program includes "Two Pieces of One:Green" by Tony Award winner and internationally acclaimed choreographer Garth Fagan, a leading force in the contemporary modern dance world, Gerald Casel's highly praised "Proxima" and new work by McKnight Fellow Wynn Fricke. Joanie Smith re-imagines her work "Pat A Cake" from Shapiro & Smith Dance's repertoire. Toni Pierce-Sands, artistic director of TU Dance and a member of Theatre Arts & Dance faculty directs Dance Revolutions.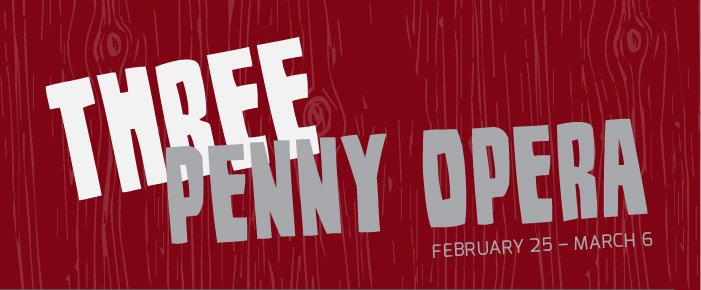 Threepenny Opera, -- startling piece of musical theatre featuring some of the 20thcentury's greatest songs – including "Mack the Knife" and "Pirate Jenny" – is a wickedly funny story of betrayal upon betrayal, climaxing in one of the most unusual and hilarious finales in modern theatre. Composed by Kurt Weill with book and lyrics by Bertolt Brecht, and translator Elizabeth Hauptmann,Threepenny Opera takes the stage February 25- March 6 under the direction of faculty member Kym Longhi and conducted by School of Music faculty member Jerry Luckhardt.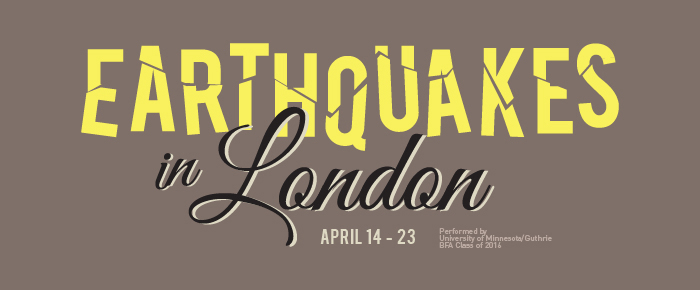 Earthquakes in London by Mike Bartlett is driven by "an all-pervasive fear of the future and a guilty pleasure in the excesses of the present …in an epic roller-coaster of a play from 1968 to 2525 and back again. Earthquakes in London includes burlesque strip shows, bad dreams, social breakdown, population explosion, and worldwide paranoia. It is a fast and furious metropolitan crash of people, scenes and decades, as three sisters attempt to navigate their dislocated lives and loves, while their dysfunctional father, a brilliant scientist, predicts global catastrophe. "-- Methuen Publications. "Questions fizz and soar like fireworks….not to be missed." --Time Out. Directed by Bruce Roach, Earthquakes in London will be presented in the Guthrie's Dowling Studio April 14-23 and performed by the University of Minnesota/Guthrie Theater Actor Training Program senior class of 2016. Note: University Theatre ticket pricing applies.
Tickets for these main stage performances are available by visiting theatre.umn.edu or by calling 612-624-2345. Admission prices include ticket fees: $6 for all students; $11 U of M faculty/staff; $16 general public.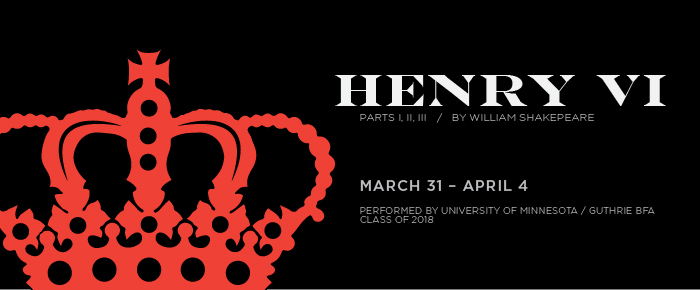 Celebrating of Shakespeare's rich 400 year legacy, the University of Minnesota/Guthrie Theatre Actor Training Sophomore Company performs an adaptation of Shakespeare's trilogy Henry VI directed by guest artist Doug Scholz-Carlson (Artistic Director, Great River Shakespeare) and faculty member Steve Cardamone.
Always cleverly staged with an emphasis on mastery of text, these works will be performed March 31 – April 4, 2016 in the Stoll Thrust Theatre.Note: All Henry VI tickets are priced $6 and may be purchased online at theatre.umn.edu or by phone at 612-624-2345.
In addition to these productions, Theatre Arts & Dance department presents a wide variety of studio and informal showings that are free and open to the public. Register for your general admission seating with University Events Calendar https://events.umn.edu/Online/default.asp
Print out your free ticket and present at the door for admission. Any unclaimed seats will be available on a "first come, first served" basis ten minutes before the curtain time.
BFA Studio Series 2015-16 showings by The University of Minnesota/ Guthrie Theatre Actor Training Program students are as follows:
October 6-11 Chekhov's classic works The Cherry Orchard directed by Risa Brainin playing in repertory with Uncle Vanya staged by Michelle O'Neill. Performed alternately The Cherry Orchard (October 6 and 9 at 7:30pm and 10 at 2:00 pm) and Uncle Vanya(October 8 and 10 at 7:30pm and October 11 at 2:00 pm) presented in Rarig's Liu Stage/ Kilburn Theatre.
October 27-November 3, the Sophomore Company plays three Sam Shepard works in rotating repertory with showings of A Lie of the Mind directed by Bruce Roach,( October 30 at 7:30 pm , November 1 at 2:00 pm and November 3 at 7:30 pm) Buried Child directed by David Colacci, (October 29 at 7:30 pm, October 31 at 7:30 pm, and November 2 at 7:30 pm) and
Heartless directed by Ellen Fenster ( October 27 at 7:30, Oct 31 at 2:00pm, and November1 at 7:30pm.)
On the Larry Liu Stage /Kilburn Theatre.
February 25- 28, the Junior Company presents Euripides' Hippolytus staged by Dario Tangelson ( February 25, 26, 27, at 7:30pm and 28 at 2:00pm and 7:30 pm and on the Liu Stage /Kilburn Theatre.
April 14-17 Two one- act comedies by Christopher Durang takes the spotlight on the Liu Stage/Kilburn Theatre. TBA
April 28 -30 the Freshman Company makes its formal debut with Fresh Scenes directed by Lucinda Holshue and Joe Price ( April 28, 29 at 7:30pm and April 30 at 2:00 pm).
B.A. Creative Collaborations present informal showings after a series of intense rehearsal weeks focused on ensemble theater creation. Production elements are usually light, creativity and artistic risk are always high. This season's line-up includes:
September 18 - October 31 (selected weekend nights) ValleySCARE. a creative collaboration with 19 B.A. students this fall, is led by faculty member Luverne Seifert and guest theatre artist Jim Lichtscheidl. In a unique partnership with Shakopee's Valley Fair, they hope to frighten the dickens out of visitors. Each student explores a darker side, contributing to an original macabre tale of animal transformation, and then collectively they will bring to life in a full-scale environment housing these grotesque mash-up experiments. Acting as performers and /or guides, costumed students will lead groups through a bizarre collection of misshapen creatures. Together these creative collaborators learning basic skills required of designers, stage managers, make-up artists and mask- makers, will conjure this truly creepy creation for ValleySCARE spectators. For more information on this event, contact valleyfair.com or visit valleyscare.com for details.
December 5-7, A Penny for Brecht takes center stage in a performance piece generated by students through in-depth explorations into the life and times of writer, poet, lyricist, adaptor, theorist, 20th century theatrical revolutionary Bertolt Brecht. Student collaborators present a montage of scenes, music and stories about the artistic collaboration between Brecht, his lover and translator Elizabeth Hauptmann and composer Kurt Weill that led to the Threepenny Opera. Framed as an open "rehearsal" with Brecht actively imagining his work with his actors, "A Penny for Brecht" offers an entertaining and critically engaging look into Brecht's attempts to stage capitalism. The showing will include brief excerpts and songs from Threepenny Opera juxtaposed with Brecht's revisionist Threepenny Novel, and his Messingkauf Dialogues. Presented December 5-7 , (with two performances December 6) in Rarig Center's Nolte Xperimental Theatre, A Penny for Brecht directed by theatre artist and faculty member Kym Longhi, weaves together student work with the interdepartmental resources of the U of M German scholars, music and theatre history experts. This workshop prepares audiences for the upcoming Weill & Brecht Festival productions of Threepenny Opera and Lady in the Dark presented in the spring of 2016. Admission is free to this Creative Collaboration; tickets will be available through University Events calendar reservation system at no charge.
April 1, My Name is Anton Chekhov, is guided by Acting Instructor Shirley Venard student collaborators investigate two of Chekov's short stories and research his life, then engage in a performance of the intersection of his life and work. This project will look at the conversation between recorded and live performance.
May 6, Autobiography of Red.Anne Carson's "Novel in Verse" is adapted for live performance, is guided by guest artist Jeremy Wilhelm. This universal coming-of-age story about the search for self-expression and identity pushes aesthetic boundaries. The novel, raw and unsettling, just like the teenage years for nearly everyone, is not a morality tale or feel-good journey of empowerment, but rather a love story. Geryon is an Everyman Freak for anyone who has felt like an "other", and learns about love for others, love for his art, and love for himself. For the students it will serve as a great performance text for devising and problem-solving without having to start devising from scratch.
My Name is Anton Chekhov, is guided by Acting Instructor Shirley Venard and will be presented April 1. This investigation will take two of Chekov's short stories, have students research Chekov's life, and engage in a performance of the intersection of the life and the work.This project will look at the conversation between recorded and life performance.
Dates TBA. Guided by theatre artist Rick Shiomi, Ronin will have a staged reading. Watch for details on this project.
Informal Dance Showings mark the end of the residencies of each of this year's Cowles Visiting Artists and the opportunity for an early peek at the show in the making These informal showings, performed by dance students, take place in the Barker Dance Center—Studio 100. Note: Seating is limited, based on first come basis and is free. Each showing is followed by Question/Answer/Discussion with the artists. The Fall 2015 informal showings are scheduled as follows:
Friday, September 25, 4:30 pm. Excerpt from Garth Fagan's Two Pieces of One: Green restaged by Garth Fagan and Natalie Rogers-Cropper, Cowles Visiting Artists.
Friday, October 16, 4:30 pm. Newly Commissioned Work, by Wynn Fricke, Cowles Visiting Artist.
Friday October 30, 4:30 pm. Proxima by Gerald Casel, Cowles Visiting Artist