Minnesota Centennial Showboat
Robert Louis Stevenson's classic story is brought to life this summer. A runaway hit in the summer of 2002, Dr. Jekyll and Mr. Hyde recounts the haunting story of a good man whose body is capable of incredible evil. In a quest to find the monster terrorizing London, a cast of memorable characters discovers the unbelievable truth. A perfect melodrama of a love doomed by sacrifice, expect relief from the tension in our famous musical olios that will delight audiences from age 8 to 80. Read More »
Here comes the Showboat!
The Minnesota Centennial Showboat, the very definition of summer fun on the Mississippi! Board this floating palace, as thousands have, to enjoy traditional painted backdrops, footlights, and nineteenth-century stage magic – howling windstorms, rolling thunder, and ghostly apparitions. The Showboat, delighting audiences since 1958 with its annual crop of wonderfully talented young actors. Its scenic location, docked on Harriet Island right across from downtown St. Paul, provides the best river views in the Cities from its decks and public spaces.

Don't miss the signature event of a Minnesota summer. Bring your group, your family, your friends and get acquainted with the Showboat – a destination, a Twin Cities attraction, and the Greatest Theatre on Water! View Ticketing Details »
Musical Olios
The Showboat is known for its song and dance interludes spiced with fun gimmicks, colorful costumes and surprises, straight from the golden days of vaudeville.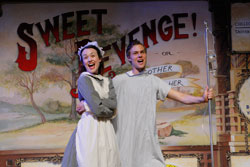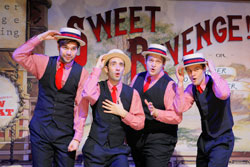 Watch the creation of one of the Showboat's amazing scenic drops!
Plan your visit
FREE parking for cars and buses. Come by bike on the Lilydale Trail, or by boat. FREE dock on the island. The Showboat is completely accessible.
The Showboat plays Wednesday through Saturday evenings at 8 p.m., with 2:30 matinees on Tuesday, Wednesday, Thursday, and Saturday. NO SHOW Sunday and Monday. Pick Your Performance »
What People Are Saying
"It knocked my socks off!" – audience member
"Absolutely loved this show. The olios were hilarious and the cast was great. There's lots of audience participation and I left with a big grin on my face." – audience member
"Crooked cops, con artists, killers, heroines, heroes and a boozy grandma...perfect Showboat fare." – Star Tribune
"Olios (song and dance routines) that stitch scenes together...are almost worth the price of admission themselves." – Star Tribune
Links to Press Coverage
City Pages (6-20-2013) "Olios are the Stars on the Showboat"
by Ed Huyck
Minnesota Public Radio (7-3-2013) State of the Arts "U of MN offers Sweet Revenge! for its summer showboat production" by Marianne Combs
Pioneer Press (6-15-2012 ) "And in an entirely different vein ..." by Kathy Berdan