Showboat After Dark - New this Summer!
Late night on the summertime Mississippi means a glowing skyline, lights rippling on the water, and Showboat After Dark! Join us for three nights ONLY of 18+ fun and frolic in July. Bars and decks open from 10 p.m. Come early and stay late!
Nadine DuBois
and The Showboat Follies!
Nadine DuBois, one of the Twin Cities' most renowned cabaret performers, takes the stage on Harriet Island for a late-night revue featuring her beautiful Follies Dancers, a chorus of sirens, a kickin' live band, and a bevy of vaudevillian tricksters. With Nadine at the helm, you'll be treated to a night of glittery spectacle and nostalgia...and plenty of laughs.
Saturday, July 21 and Saturday, July 28
11 p.m. to 12:30 a.m.
$15


Four Humors Theater and Joseph Scrimshaw present
COMEDY: THE SHOW
A One Night Only Comedy Extravaganza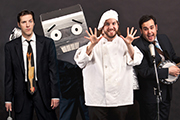 Join acclaimed comedy artists and Fringe Festival favorites Four Humors Theater and Joseph Scrimshaw, as they team up for a unique evening of sketch, improv, stand-up and some freakishly undefined comedy. Inspired by the vaudeville stage of the Showboat, Four Humors and Scrimshaw will reenact the entire (probably not accurate) history of comedy itself!
Friday, July 27
11 p.m. to 12:30 a.m.
$15


Also new on the Showboat this year
Minnesota Fringe Festival Fringe-for-All
Monday, July 23
See the Fringe Festival website for more information.